4 EASY STEPS: 1. select your size range 2. select your wood(s) 3. add a live edge stretcher? 4. enter your custom measurements in the notes at checkout!
Regular price
Sale price
$3,400.00
Unit price
per
Sale
Sold out
Our modern, zen style Statement Table design is a lovely choice for your new hall table.  The sleek lines and elegant proportions of this hall table allow the amazing beauty of the premium wood to be the shining star.  With a narrow footprint, this minimalist hall table will add stand-out beauty to your entrance hall without taking up too much space.  A unique narrow table for hallways, our Statement Hall Table provides a helpful place for a bowl or tray to hold your keys or the mail as you come in the door, while also being the one-of-a-kind artistic touch that is sure to elevate your entry hall decor.
Your home is your canvas, and you are the artist.
Customize your Statement Hall Table!  Select the custom size range for your hall table measurements.  Then select the wood color(s) you would like your custom hall table to be created from.  You can also choose to add a live edge stretcher to your custom walnut hall table for an extra, unique, touch of Mother Nature's beauty.  With our custom hall table options, the design possibilities are endless. 
The size ranges available for this custom hall table are:
34-40"L x 8-9"D x 26-38"H
&
41-48"L x 8-9"D x 26-34"H
Enter your Custom Hall Table Measurements in the notes at checkout.       
Share
Other Sizes Available

This unique table design is available in a wide variety of size ranges so you can create the perfect custom table for your space.

View our Custom Table Options

or Contact Us with your custom table request. We are happy to help!
Premium Wood Choices

W - Solid Walnut

CH - Solid Cherry

TM/W - Tiger Maple top with Walnut base

TM/CH - Tiger Maple top with Walnut base

LEW - Solid Walnut with added Live Edge Stretcher

TM/LEW - Tiger Maple top with Walnut base with added Live Edge Stretcher
Lead Times

Our modern wood furniture is MADE TO ORDER. See our FAQ's or contact us for the most up to date lead time information for whichever piece you are considering. 
View full details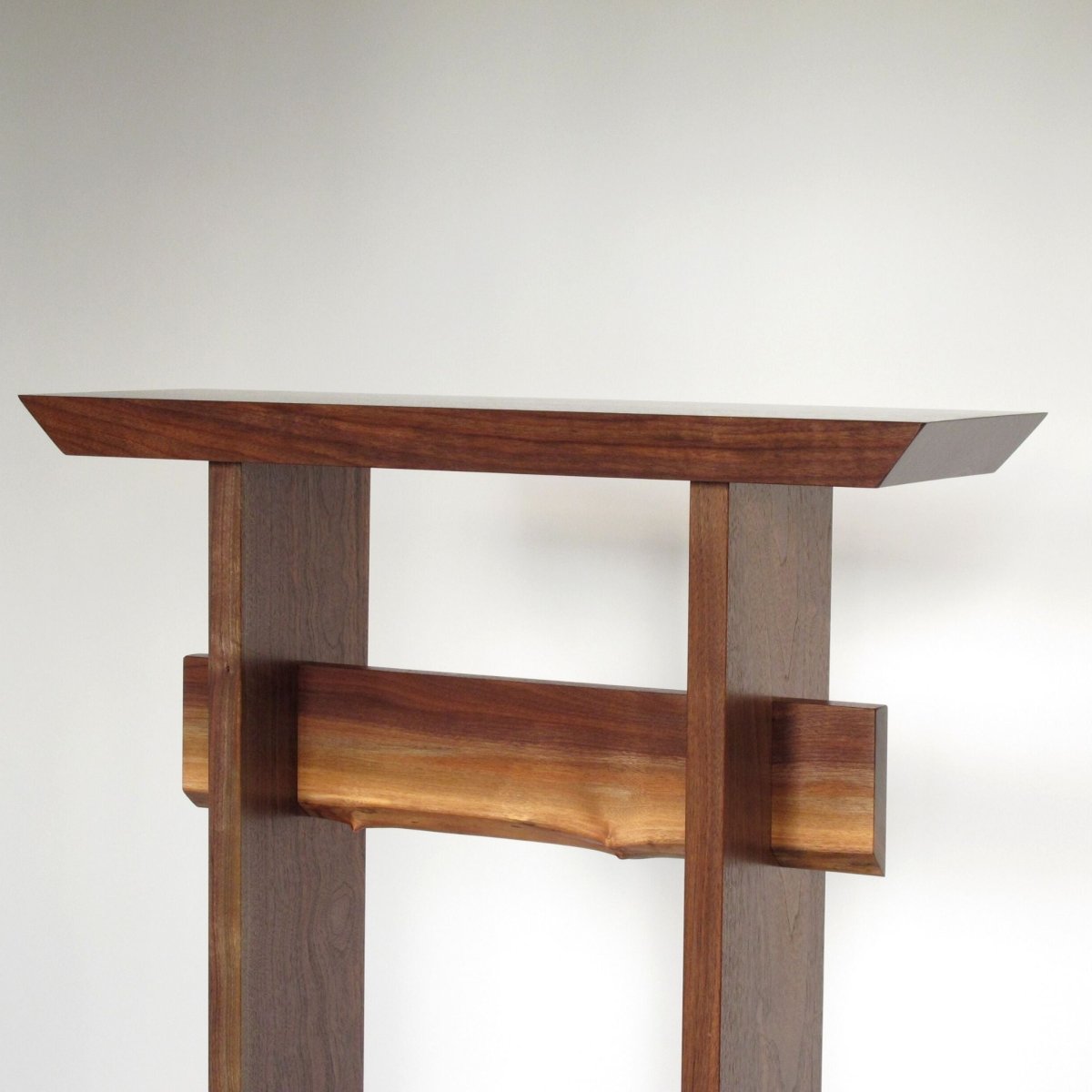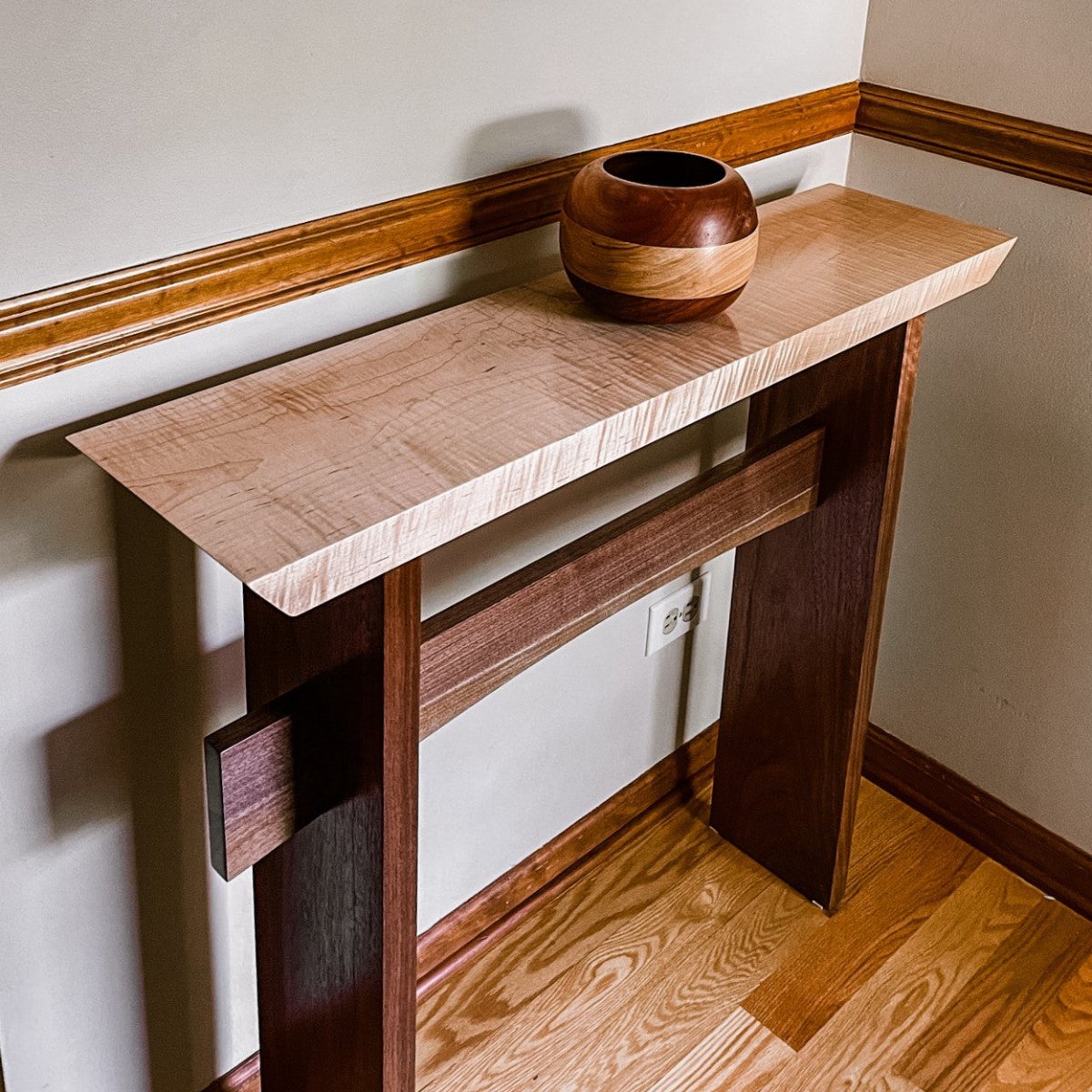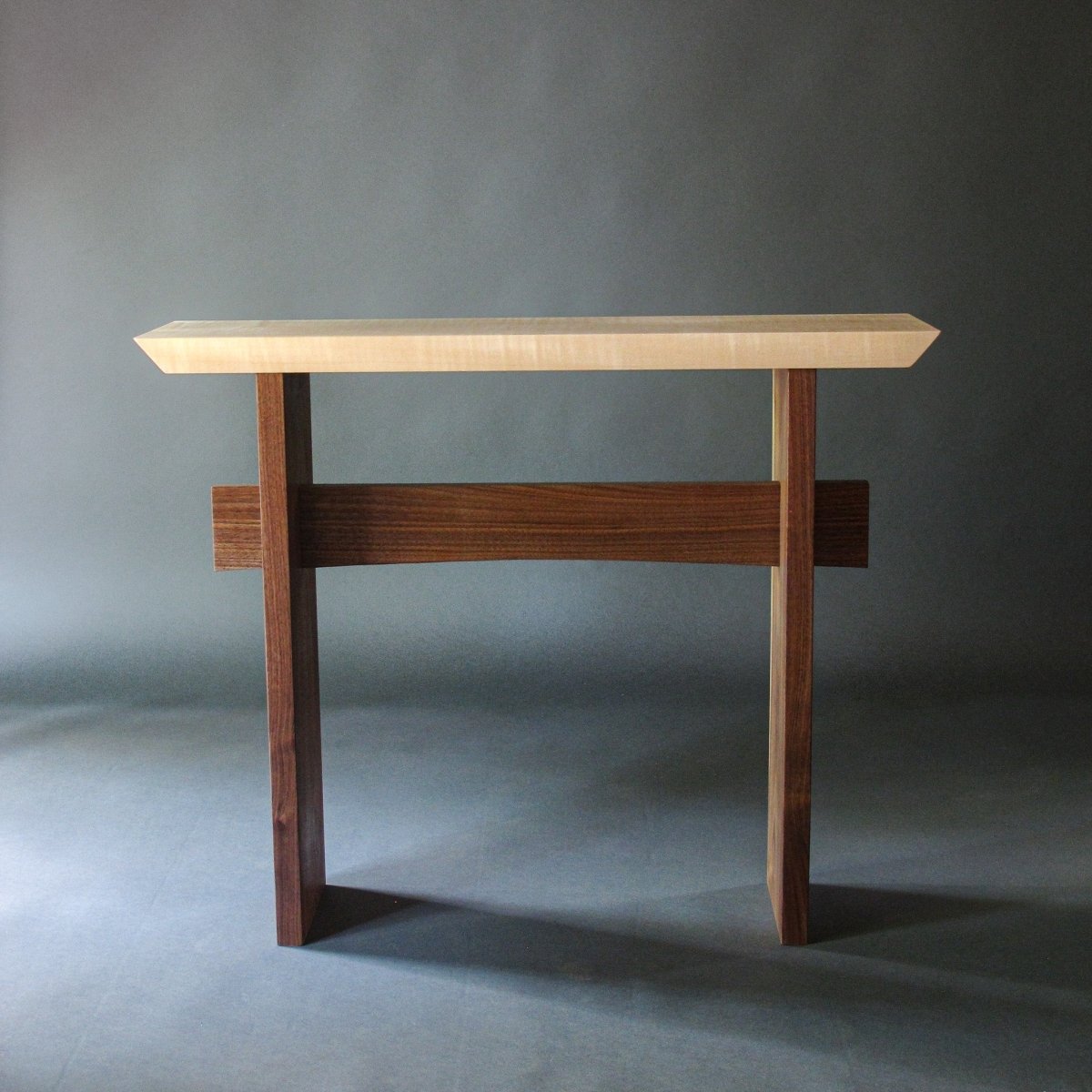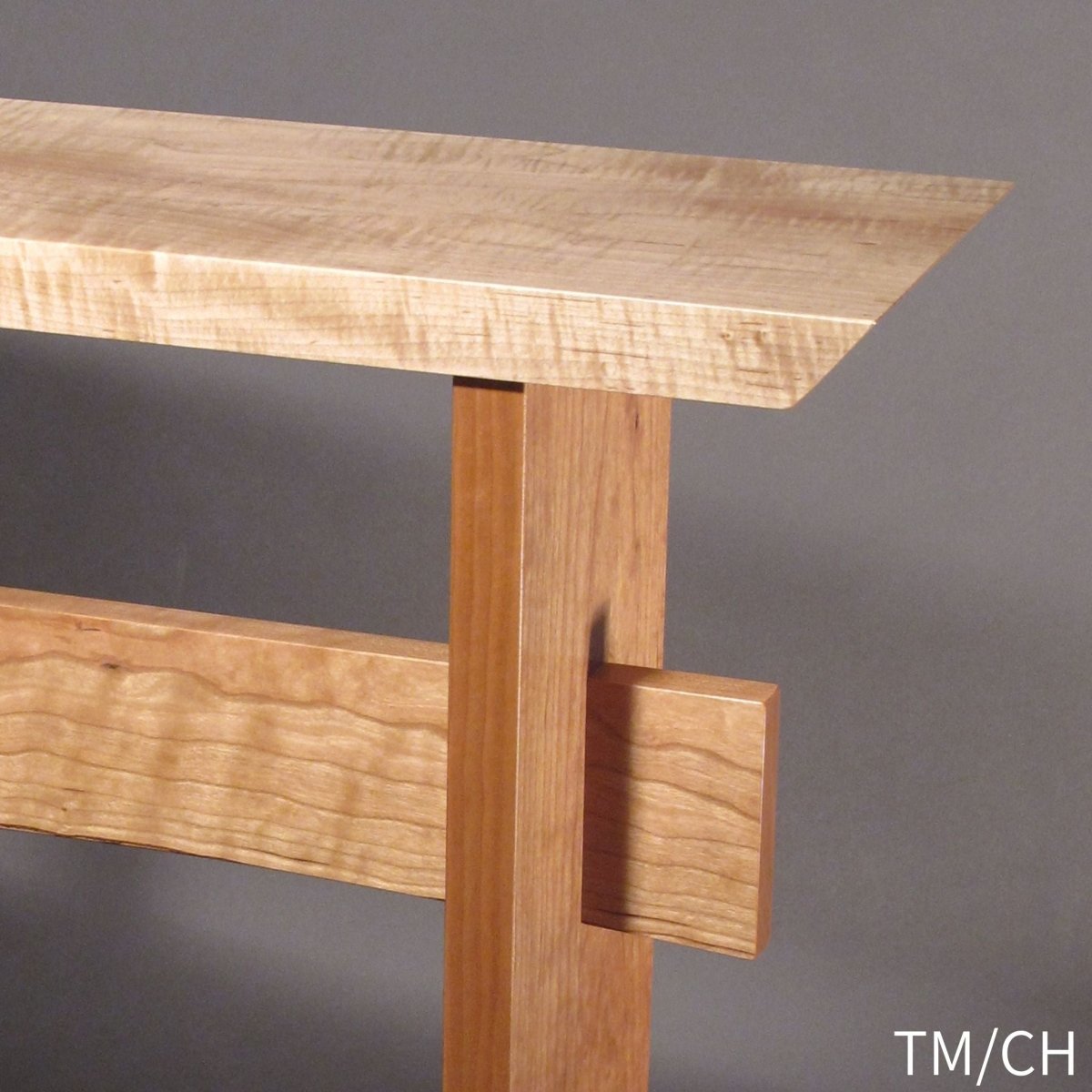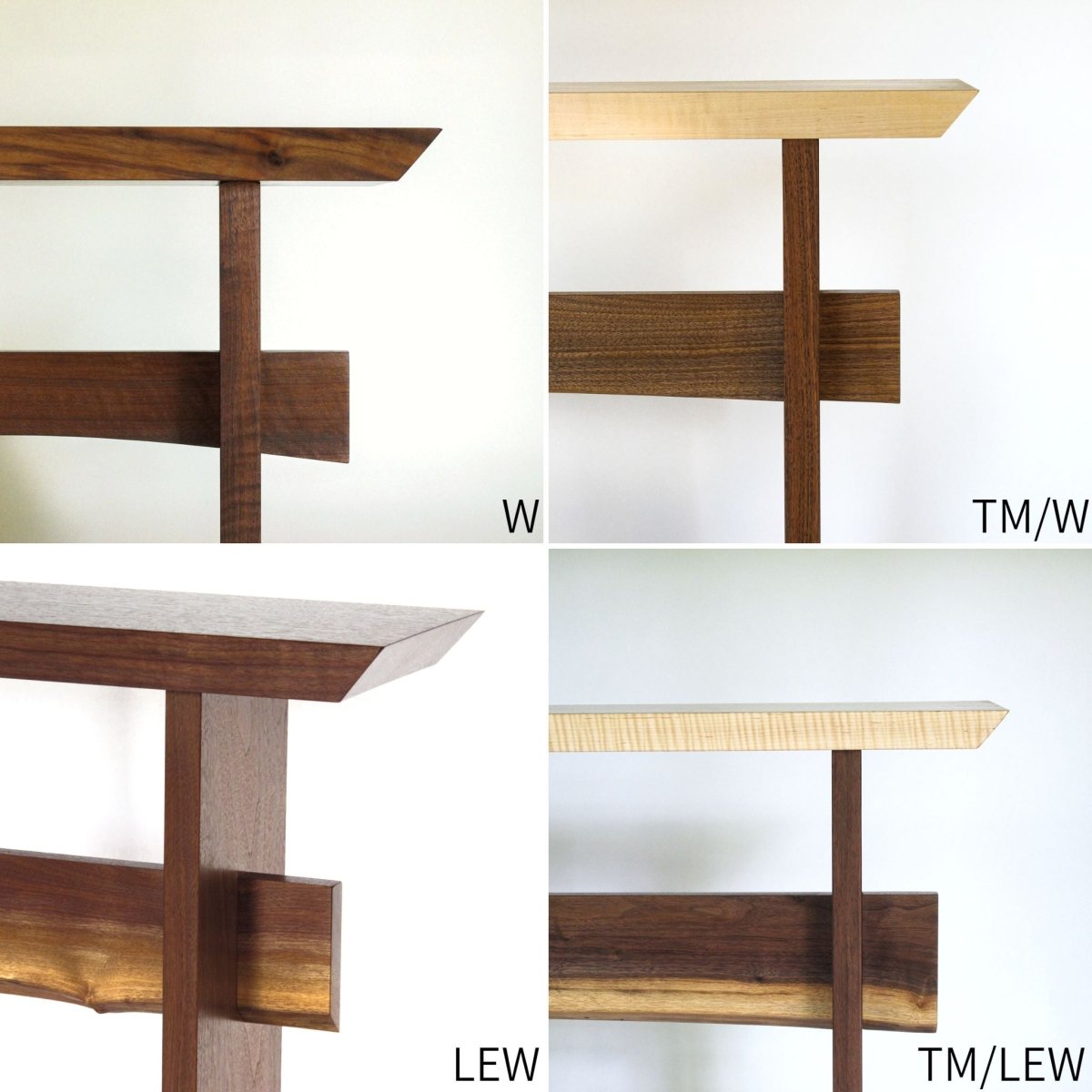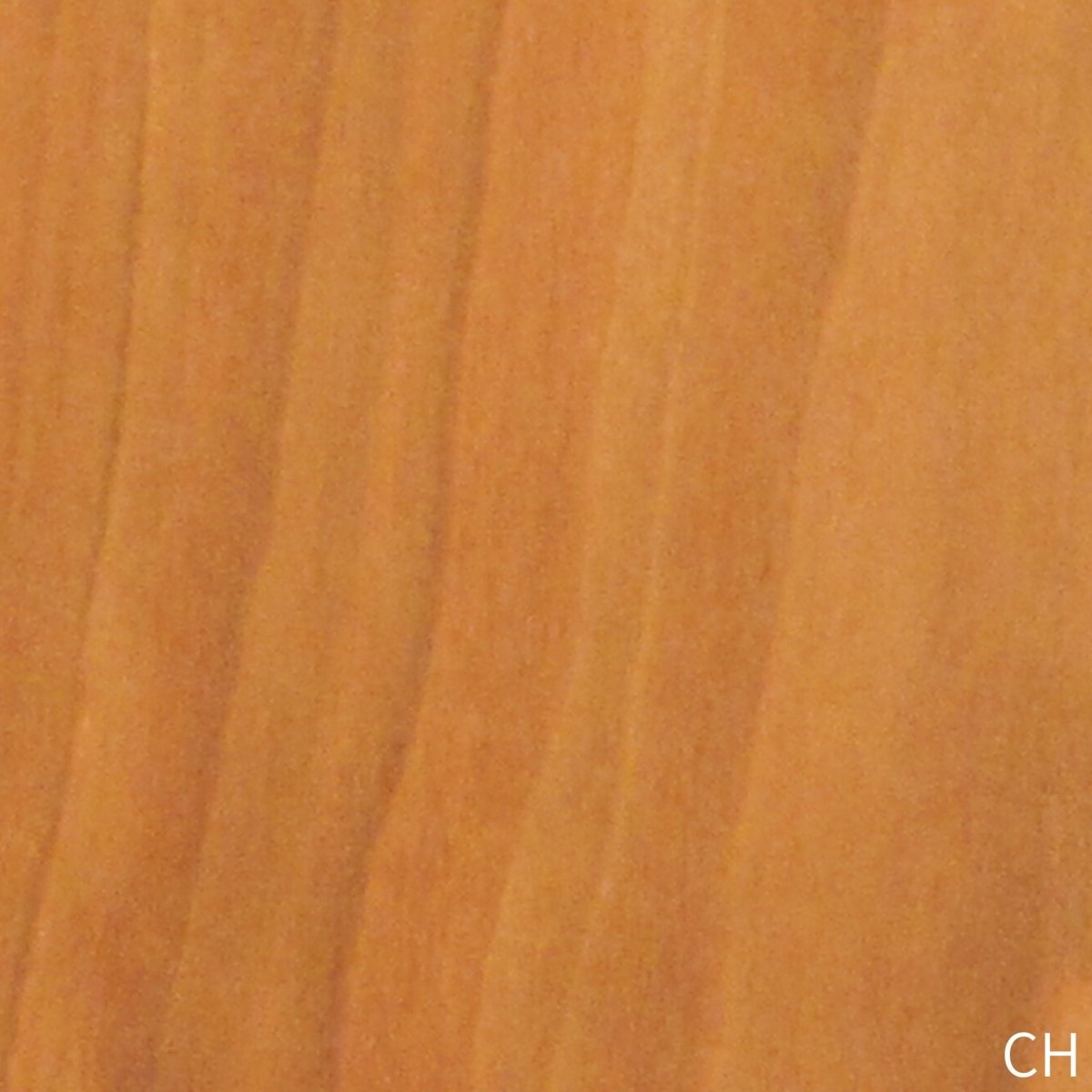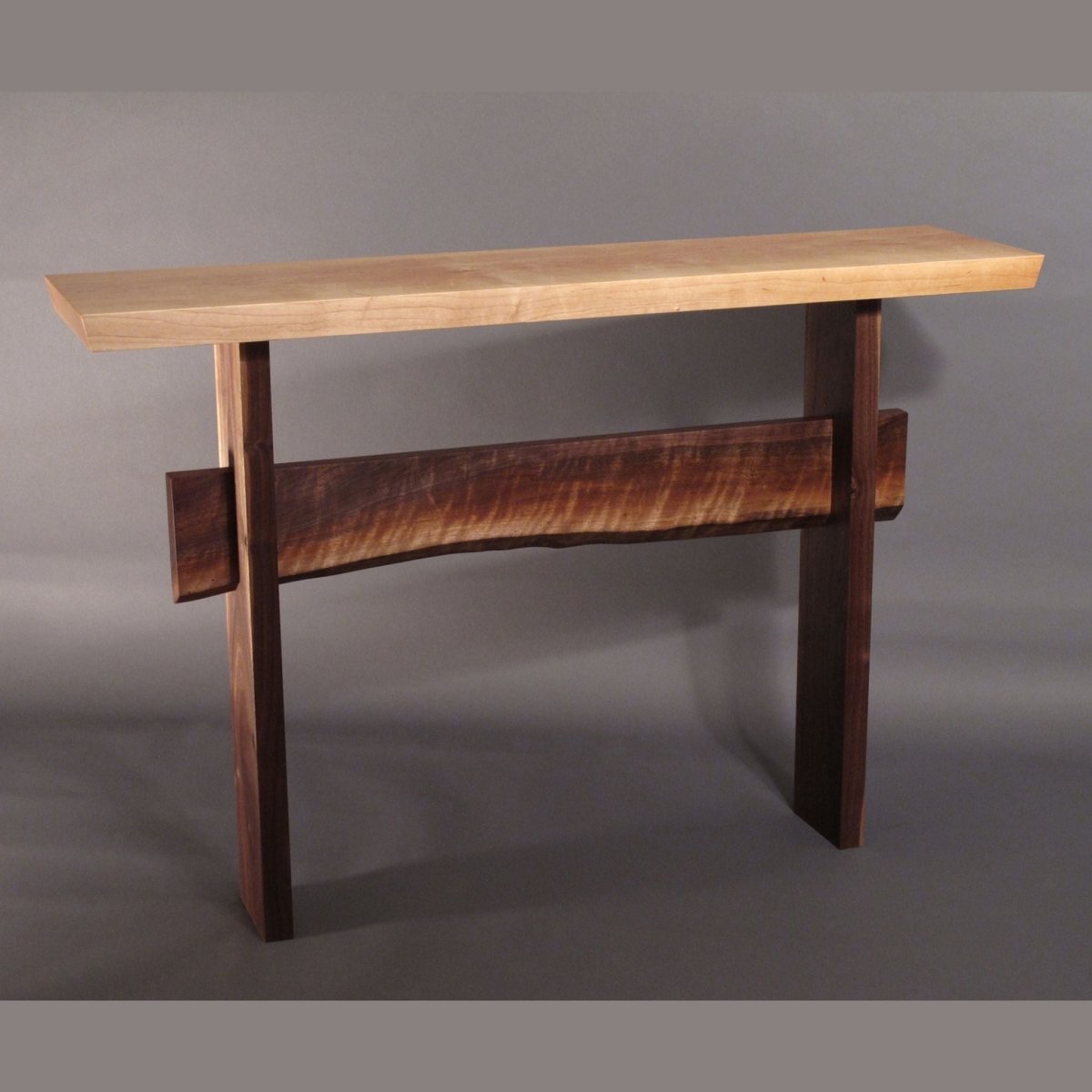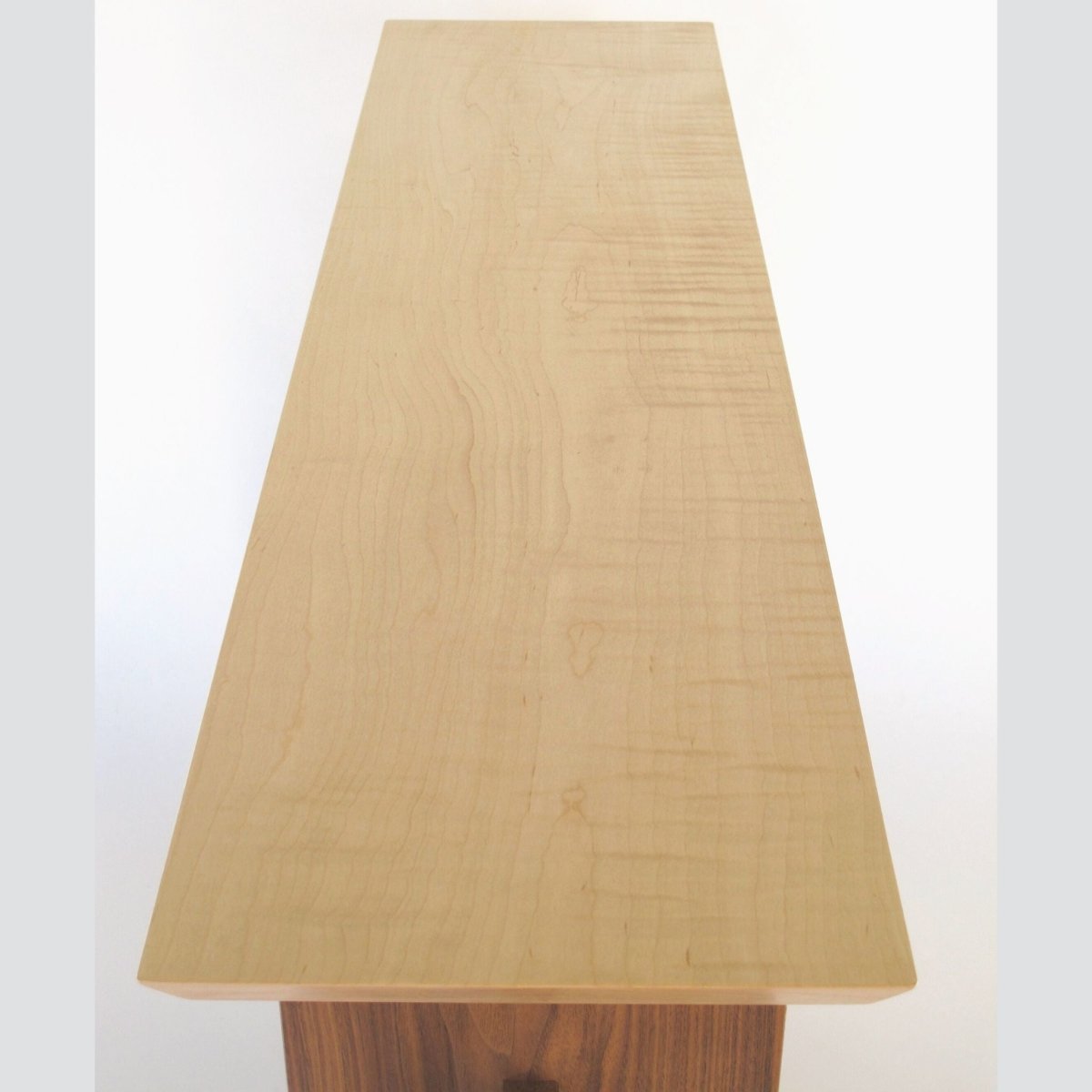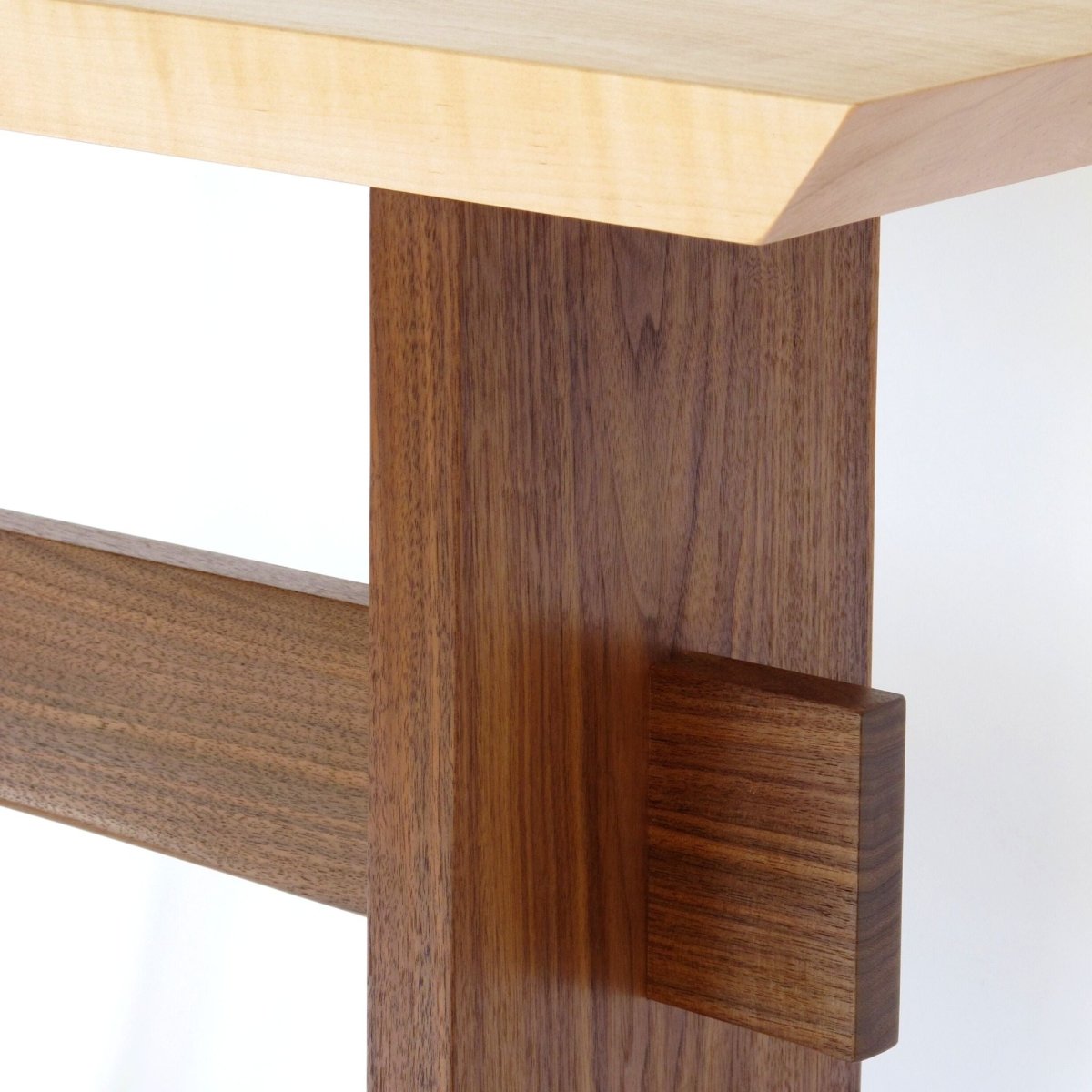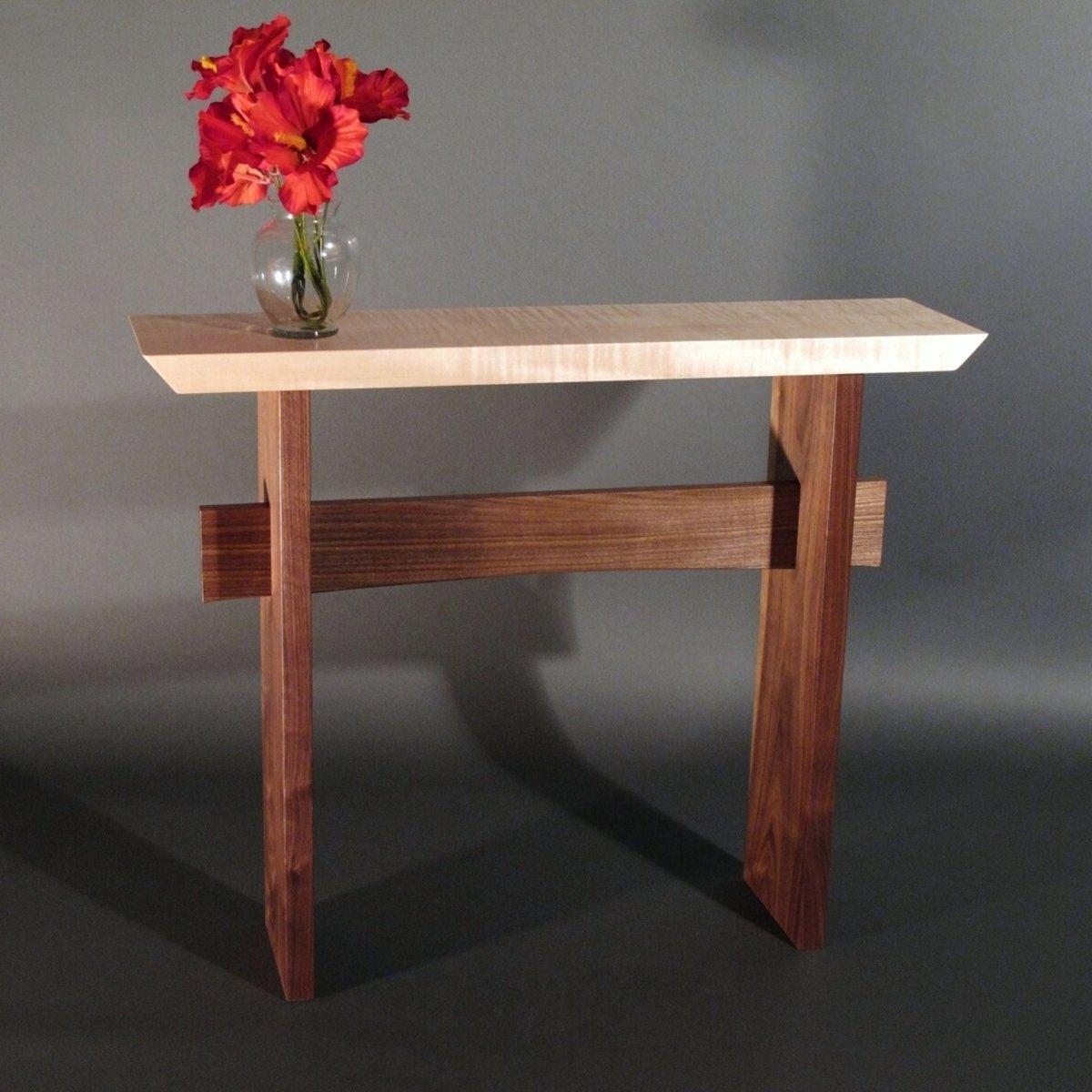 Your custom hall table will be an individually hand-crafted, work of art.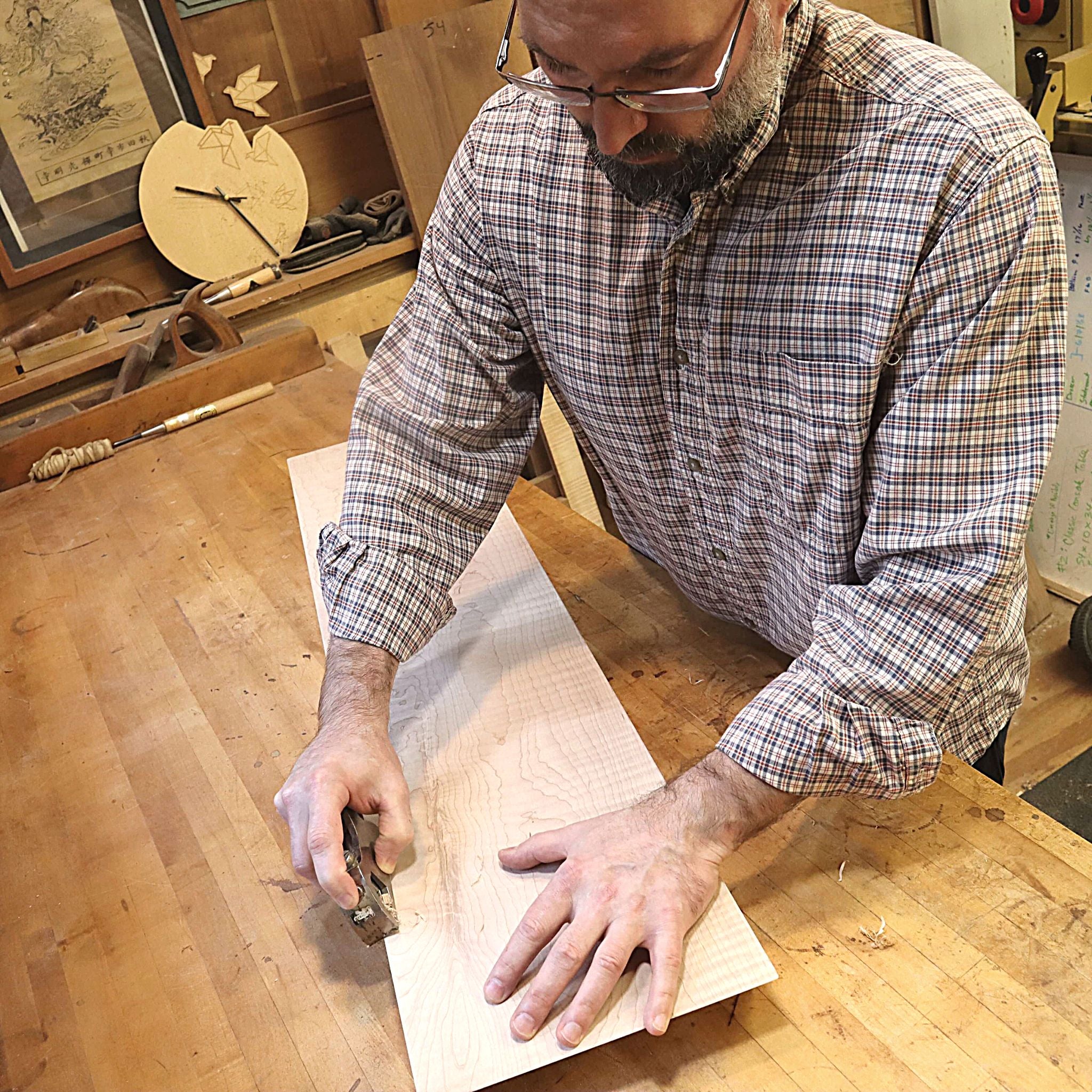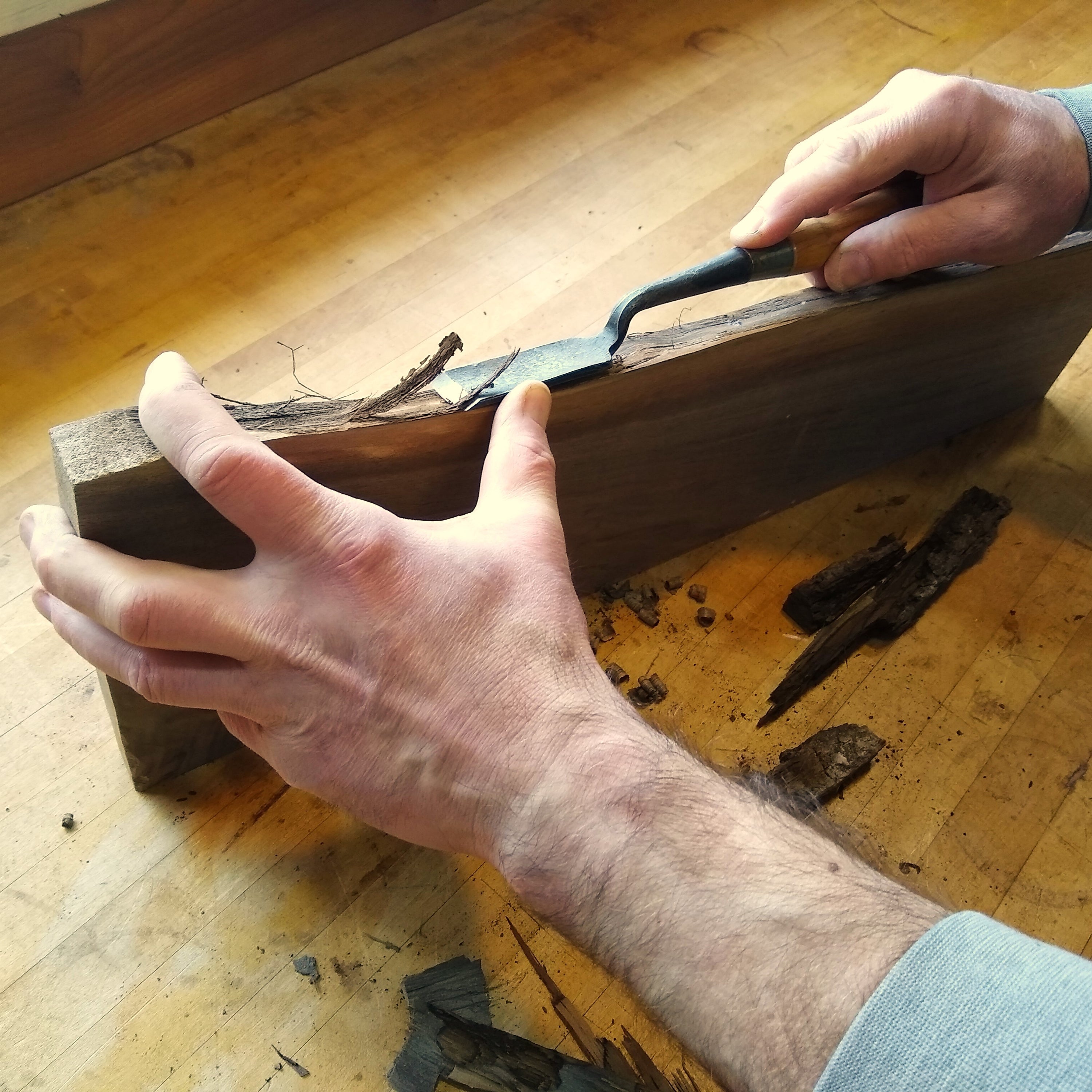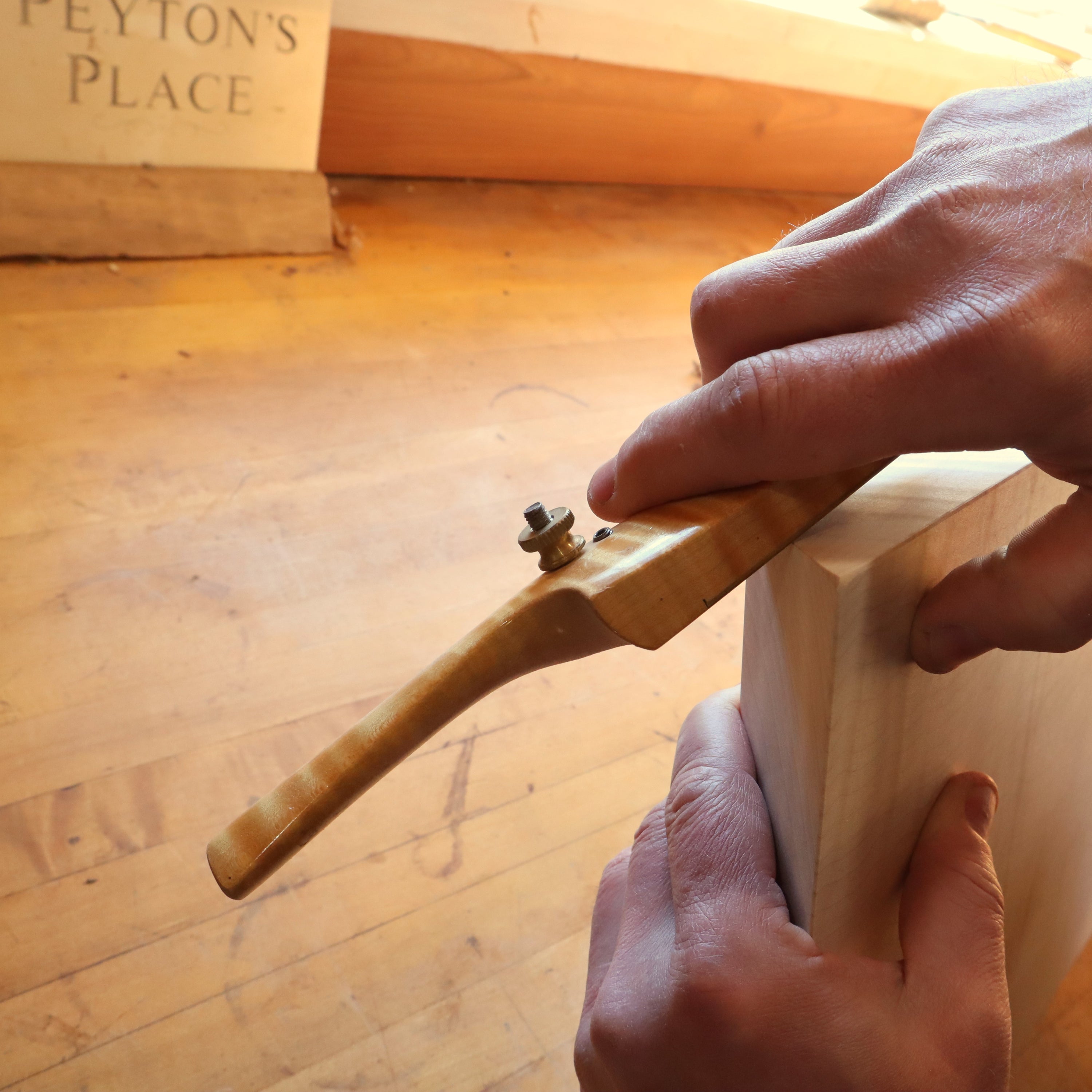 A personal experience
Be a part of the artistic journey with a look inside our workshop as we create your one-of-a-kind custom hall table. As we plan, cut, shape and construct your new hall table, we document the entire process through a series of photographs. At the end of the project, we share these photos with you along with a written narrative that describes what you are seeing and why it is important.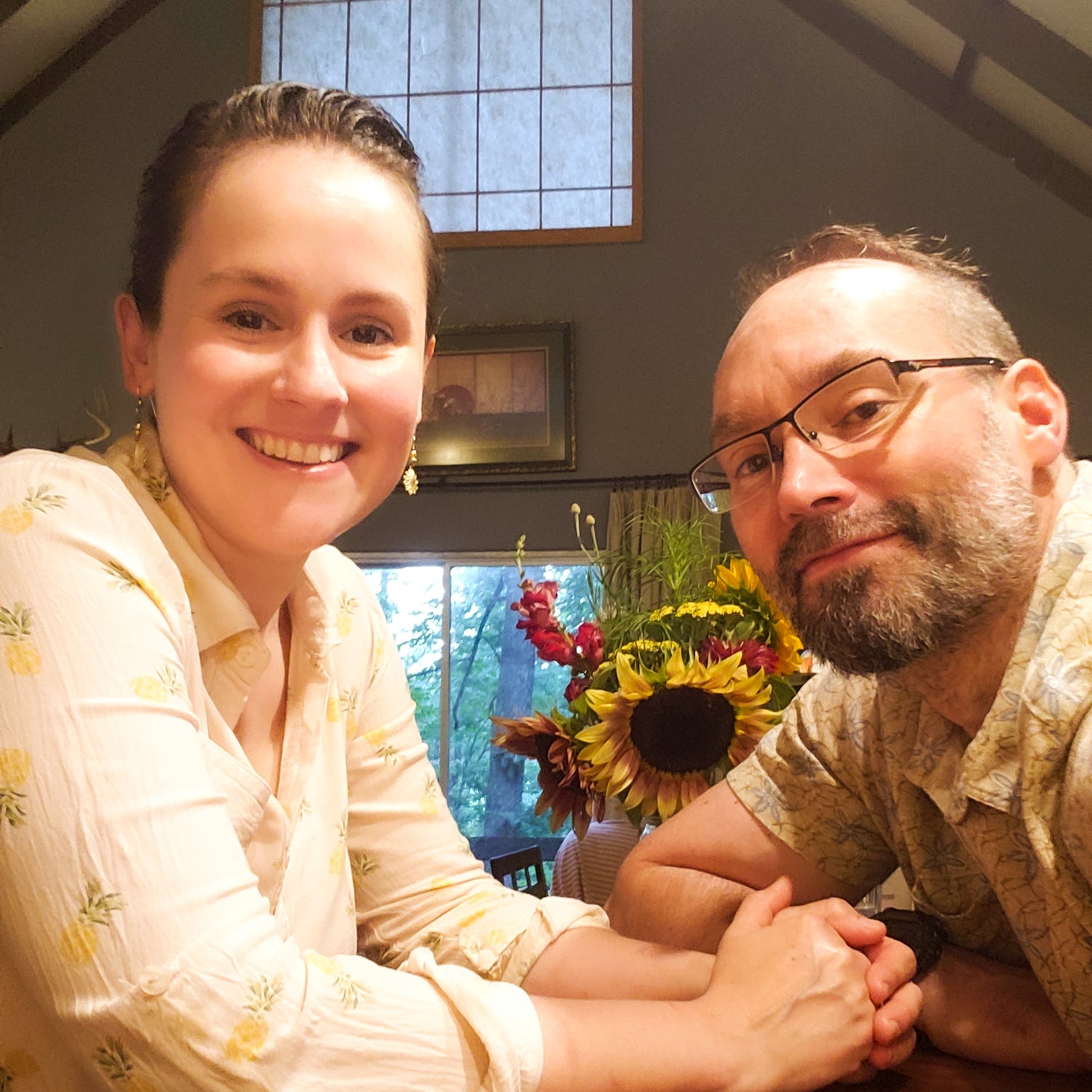 Meet the Makers
We are Peyton and Tamara White, a husband and wife team of artists, creating a beautiful life together one beautiful piece of furniture at a time.
Learn More
We are proud to provide a premium level of customer service.
Complimentary Delivery

All of our modern wood furniture designs include complimentary delivery. Your beautiful new hall table will be delivered with care, by appointment.

Learn about our secure shipping

Need a different size?

This unique hall table design customizes beautifully to any size. If you need special measurements to fit your space perfectly, check out our Create a Custom Table option here!

Create Your Custom Statement Table

Expert Design Advice Available

We can help you create the perfect custom furniture design for your space. With a background in interior design, Tamara can provide expert advice on size, color, and design choice. Just ask!

Contact us
Let's get started designing the perfect custom hall table for your space. Tell me about your design ideas and I will be in touch soon!
-What our customers are saying-
"An awesome experience from beginning to end. A hall table infused with intentions. Even the packaging was an act of love. Many thanks. Highly recommend and will buy from them again"
- Margie - NewYork, NY
"The customer service was wonderful and the table is quite beautiful and unique. It fits the entrance hall of our new home perfectly. It was scary to pick furniture online before we moved in so I really loved working with Tamara. Thanks for helping us furnish our new home!
- Andrea - Phoenix, MD